TORQUE TRANSDUCERS

Torque transducers from Datum Electronics offer rotational and static torque measurement from 10Nm to 60,000Nm as standard with digital or analogue interface, from 5mm to 1100mm diameter. Specialists in bespoke transducers.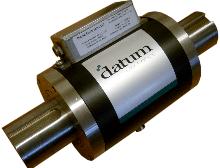 Model M425 Conventional Rotary Torque Transducer with rotary shaft and static body. This complete packaged torque sensor transmits the torque signal from the rotating shaft within the transducer body. The static element of the torque sensor is mounted to the rotary shaft with bearings. Ideal for applications that require the transducer to be mounted in line with the driven torque.

Click here for the data sheet:
Need to measure shaft torque and power from your vehicle to a PTO driven machine. For example, from the output PTO shaft or stub shaft from a tractor, transfers power from the tractor to the PTO driven machine, such as grain augers and silage blowers.

Click here for data sheet